Joe O'Reilly | 1932–2007
This page is dedicated to Joe O'Reilly, our Founder and a pioneer of Irish tourism.
1932–2007
Joe O'Reilly | Entrepreneur & Legend of Irish Tourism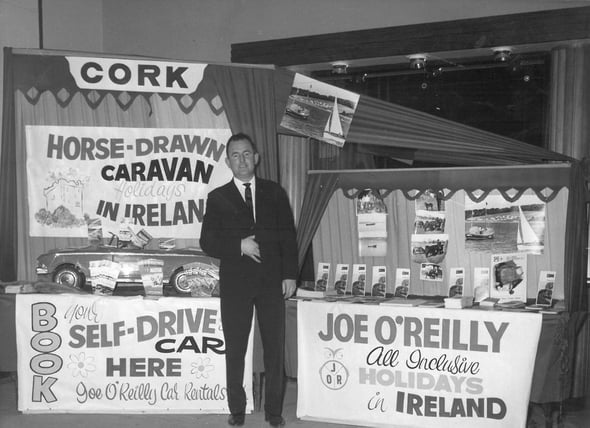 The travel trade and Irish tourism has lost one of its most successful and colourful characters in the untimely passing of Joe O'Reilly.
An entrepreneur long before we knew the meaning of the word, he was one of the pioneers of Irish tourism. He travelled extensively in Britain and continental Europe promoting the country in the early 1950s – at a time when many Europeans confused Ireland with Iceland. Those with a knowledge of Ireland at that stage knew little more than its association with Eamonn De Valera, Arthur Guinness, the colour green, and that most of their inclement weather was caused by the winds that blew across the sea from Ireland. In the 1970s and 1980s Ireland became better known, unfortunately for the wrong reasons, as the northern 'Troubles' were widely reported.
It was against this background that people like Joe traversed the highways and byways, at times ploughing very lonely furrows and in the process laying the foundations of what is now one of our most important and successful industries. Later on he contributed at a strategic level as chairman of the Cork / Kerry tourism region.
Joe packed more into his 74 years than anyone I know. Leaving Cavan for the bright lights of Dublin and the car hire business, he quickly made his presence felt, both literally and metaphorically. With a loud hailer on the roof of his car blaring out the merits of his particular company, complaints of public nuisance were received by Garda authorities. He was eventually apprehended by one of those tall impressive Gardaí on point duty on O'Connell Bridge (traffic lights had not yet appeared). He quickly won him over, helped by the fact that they both came from the same neck of the woods - and thus began a 50-year friendship!
Ireland soon became too small to contain his exuberant talents. Like so many of his contemporaries, he took the emigrant ship to America but, unlike then, he had a First Class fare paid for him by a wealthy American who was enormously impressed with a holiday trip around Ireland that Joe had organised for him. With the aid of a borrowed suit, he was suitably dressed to dine at the Captain's table - and in no time he became the top salesman for Avis in New York.
On marrying Sheila, he returned to Ireland and set up a number of businesses, such as car hire, riding school, horse-drawn caravans, incoming and outgoing tourism. Through hard word, meticulous planning, innovation and a highly personalised approach, all were highly successful.
His innovative skills are best epitomised by his driving one of his horse-drawn caravans down the Champs Élysées in Paris, flanked by two gendarmes outriders. The event gained much sought after and invaluable publicity for Irish tourism because a photograph appeared the following morning on the front page of Le Monde, the prestigious French daily newspaper. At the time, Joe was the proud owner of 100 horses. How appropriate that he should in later years become a Knight in the equestrian order of Saint Sylvester.
He was also bestowed the honour of Knight of the Holy Sepulchre. These honours would in part relate to the tens of thousands of people for him he organised and led pilgrimages to Lourdes, Fatima and the Holy Land, and to his generosity to the church, both at home and on these missions. Indeed, his last flight was to Nigeria three months ago to celebrate the opening of a building named in his honour. It now houses 90 seminarians.
In his younger days, his extracurricular activities were also of note, involving as they did the escorting of the sex goddess Jayne Mansfield around the lakes of Killarney, on one occasion acting as musical accompanist to Elizabeth Taylor and Richard Burton, driving Gregory Peck around Dublin, and spending a night on the town with Dean Martin - not to mention various encounters with The Three Stooges. To balance things out, and with an eye to his final journey, he also managed to have breakfast with Pope John Paul II in his private apartments.No doubt he is now enjoying a four ball with three former members of the Joe O'Reilly Golfing Society (JORGS), two of whom were also doyens of the travel business, i.e. Martin Dully and Paddy Fitzpatrick.
Ar dheis De go raibh a anam dilis.
MD
This obituary was first published in the February 2007 Edition of Irish Trade Travel News